susan kullmann | photography
blessed are these hands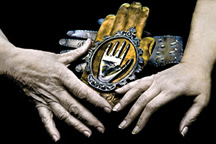 In collaboration with Marvelle Thompson
Blessed Are These Hands shows photographs and tells stories of American women from infancy to 80, each holding something that represents her deepest values. These photos, with their commentary, create an inspirational photographic essay that speaks about the evocative images from each woman's viewpoint. The book chronicles the breadth of American women's spirituality today.
The photographs capture only women's hands. In these portraits, the hands give all the clues about the woman's identity. Hands often mask race, frequently conceal age, and rarely reveal class or sexual orientation. Portraits without faces, body types, and other clues allow readers to more easily recognize other women they know in their own lives–and themselves.
Blessed Are These Hands reveals overt and subtle objects that today's women holdsacred. Religious symbols like a Hindu kalash, a Jewish star, an Egyptian ankh, and rosary beads have their place in women's hearts and hands, of course. Yet women make commonplace objects sacred too: a feather, a guitar, car keys, seed packets, books, and breasts. The book reaches far beyond America's widely varied religious base. It illustrates women's spiritual views and practices that center on nature, art, work, hobbies, family bonds, as well as religion.
Learn more about Blessed Are These Hands and view photographs from the project here....

Read about "Carol's Hands, the theme photo for "The Resurrection Issue of Trivia: Voices of Feminism, an online journal, (Issue 5, February 2007)
a few other projects
Western Association of Women Historians, Annual Conference Album (2007)
Campus 2015 Retreat (2007) - an exploration of the future and the intersection of Technology/Experience, Design/Space and Learning/Discovery
China - Hunnan Province (2006), Beijing, Hangzhou, Nanxun, Shanghai (2005)
photos


PROfessional Member
Women In Photography International

<<< external links open in a new web browser >>>